In the Chinese automobile market, with the engine production capacity, in addition to vehicle companies (especially passenger car companies), there are some independent engine companies, including Dongan Power, which provides petrol engines for mini cars and economical cars. It mainly supplies Yuchai, Weichai, Quanchai, Shangchai and Yunnei for diesel engines for passenger cars and buses. These companies have all been listed, but their profitability gaps are relatively large.

Quanchai, Weichai's net profit rate improved quickly

In the first half of 2010, the average net margins of listed companies such as Yuchai International, Weichai Power, Quanchai Power, Shanghai Diesel and Yunnei Power of the aforementioned diesel engine companies were 8.09%, slightly higher than that of Dongan Power, a listed company of gasoline engines (at 7.62 %), Of these diesel companies, only Weichai Power's net interest rate (9.74%) exceeded Dongan Power. In the same period of last year, the average net interest rate of these diesel engine-listed companies (6.15%) was lower than Dongan Power (8.54%), and none of the listed companies with diesel engines had a net interest rate that surpassed Dongan Power. (See Table 1, Table 2)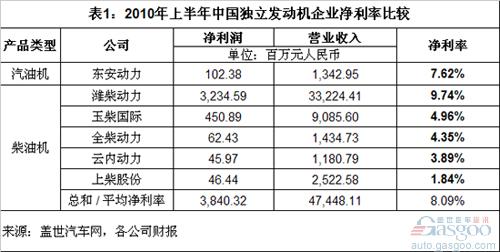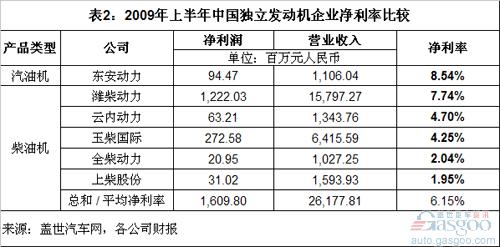 The diesel engine company's fastest-rising net interest rate in the first half of the year was Quanchai Power and Weichai Power, which were 2.31% and 2.00% higher than the same period of last year.

Judging from the financial data of the past five years (see Table 3 to Table 8), the highest average net profit rate is Weichai Power and Yunnei Power, which are 7.35% and 7.31% respectively. The average net interest rate of Dongan Power in the past five years was only 6.53%. The average net interest rates of Yuchai International, Quanchai Power, and Shanghai Diesel in the past five years were 2.73%, 1.61%, and 0.79%, respectively.

Dongan Power's net interest rates for the full year and the first half of 2009 reached 10.86% and 8.54%, respectively, which was the highest among independent engine companies. One of the reasons is that under the stimulation of policies, the mini vehicle market was the fastest growing automobile market in China last year.






Customer concentration decreased year-on-year

If the former five largest customers accounted for the proportion of these engine companies' operating income or main business revenues as a measure of customer concentration, among these engine companies, Dongan Power has the highest customer concentration, and Weichai Power is the lowest. (See Figure 1)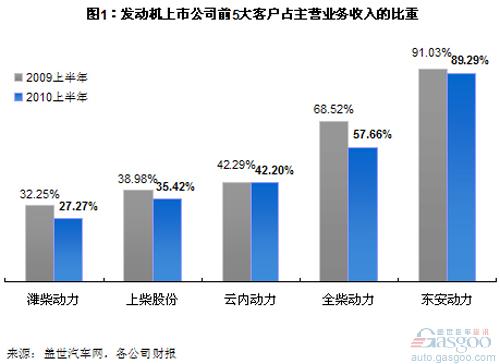 In the first half of 2010, the concentration of the top five customers of these companies was lower than the same period of last year. The largest drop was Quanchai Power and Weichai Power: In the first half of 2009, the top 5 customers of Quanchai Power accounted for 68.52% of its main business income. In the first half of this year, this share decreased by 10.86% to 57.66%; The proportion of sales of the top 5 customers of Chai Power decreased by 4.98% to 27.27% from 32.25% in the first half of last year.

The largest increase in net profit in the first half of the year is also Quanchai Power and Weichai Power. It can be seen from this that customer concentration is declining and more diversified, which is closely related to the increase in net profit of diesel engine companies.

In the first half of this year, the top five customers of Dongan Power were Hafei Automobile Co., Ltd., Hefei Changhe Automobile Manufacturing Co., Ltd., Harbin Dongan Automobile Engine Manufacturing Co., Ltd., Jiangxi Changhe Suzuki Automobile Co., Ltd. Jiujiang Branch, and FAW Jilin Automobile Co., Ltd. Sales to these five largest customers accounted for 89.29% of its operating revenue. Among them, the top two customers accounted for 66.91%. In the same period last year, sales to these two major customers accounted for only 64.65%.

Note:

1. "Yuchai International" refers to China Yuchai International Co., Ltd. The company's published financial data for the first half of 2010 was unaudited.

2. Financial data for 2005-2008 are "adjusted" data.

3. Although Weichai Power holds 51% of Shaanxi Auto, it is still supplied as an independent engine company. Therefore, this article still treats it as an independent engine company.

57mmthermal Paper,Thermal Paper Roll,57 POS Rolls

Thermal Paper,Sticky Notes Co., Ltd. , http://www.chstickynotes.com