As the capital of Jiangsu Province, the largest city in Jiangsu Province, and the second largest city in East China, Nanjing is a national historic and cultural city, an important national innovation base and technological innovation center, a modern service center, a modern service base, and an advanced manufacturing base. The shipping logistics center, the riverside eco-livable city, and the important gateway city in the Yangtze River Delta to promote the development of the central and western regions.

As far as the market is concerned, Nanjing is a distribution center for hazardous chemicals, and Nanjing Chemicals accounts for 60% of the country's total. In particular, Jiangbei is the most concentrated. This is a typical feature of Nanjing's regional market.

As a strategic distributor of Dongfeng Commercial Vehicles, which started with parts and services and made a fortune, Nanjing Dongning Automobile Sales & Service Co., Ltd. began to make vehicle sales business in 2006 and began construction of 4S stores in 2007. At the end of 2011, it was sold in territories and sold only 50 vehicles that year. In 2012 began heavy volume. Through service transformation, we will enter the fast lane of development. At present, Nanjing Dongning ranks in the top three in the local industry transportation association.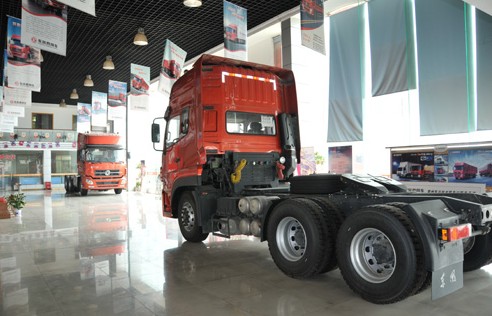 Dongfeng tractor

<br>

how they do it?

First, sincere service, trust users. Open the market with services. Provide a car trial, 3 months buyout. At the same time, in the trial period, understand, communicate usage, and provide timely feedback. For big customers, there is every need. Haoyu Logistics has a car full of dangerous goods. When the service station in Qingdao is broken, the user calls for help. The Dongning service station arranges people to take it over. The "urgent march" is sent to the user for 14 hours to solve the urgent need.

The second is research needs, marketing selling points. Durable, fuel-efficient, on-board management system is the user's requirements for tractors and the selling point of our Dongfeng tractors. The more intense the competition, the more detailed the user's requirements should be considered. As for the needs of users, such as the problem of installing video systems for vehicles, we must make great efforts to solve them and play the role of "Iron Triangle" to improve customer satisfaction. Losing an order, what is lost is a market.

The third is careful and precise, to help users solve problems. Nanjing Sansheng Logistics Co., Ltd. is a professional company specializing in transportation of hazardous chemicals. Its main transport is Dongfeng Tianlong. The reason why the use of Dongfeng Tianlong, Sansheng Logistics Department and repair shop director Shen Yongsheng gave an example. At one time, a Dongfeng Tianlong drove to a field of 2,200 kilometers away. Suddenly, the clutch of the gearbox had a problem. Long-term exposure of hazardous chemicals was tantamount to a time bomb. After receiving a call for help, Nanjing Dongning drove the vehicle overnight and brought a repairman to rush to solve the problem in time.

Fourth, we must participate in research and development of products. Two people lift the engine gearbox, can develop a robot, and ensure that the on-site service flows faster. In this way, maintenance personnel come to the door and can also promote product knowledge, technical maintenance personnel, and marketing personnel. Mobile service station, entering the logistics industry, does not require a venue.

The fifth implementation is to raise the generation maintenance, increase the attendance rate and reduce the failure rate. The users welcomed the establishment of the station and the establishment of the factory shop. The high operating rate and low stocking rate have solved major problems.

Liu F, tractor product manager of Dongning Automobile Sales and Service Co., Ltd., said that in the Nanjing market, the capacity of the tractor is 1200 vehicles. He said that if the team strength (sales backbone) is increased, there is still more room for retail market development.

In the next step, Nanjing Dongning will explore regional management and change its business as a dealer. Segment the market like sub-segments. City sprinklers and garbage trucks will be a big market.

Tail Pipes

The only visible part of the Exhaust System on a vehicle. This produces a final reduction in pressure, and sometimes used to enhance the appearance of the car. All of our Stainless Steel exhaust tips are manufactured from 100% 304 Stainless Steel. 304 Stainless Steel is the highest quality Stainless Steel and retains its high luster polish longer than any other material.

l Polished 304 Stainless Steel Tail Pipes

l Chromed Tips

l Black coated Tips

l Blue Plated tips

l Stacks

l Tail Pipes With Single or Double Wall construction

l Square tips

l Dual outlet tips

Tail Pipe

Tail Pipe,Dual Tail Pipes,Muffler Tail Pipe,Exhaust Tail Pipe

JINING FAREAST LIANGFEI CONVERTER & MUFFLER CO. LTD , http://www.liangfeiexhaust.com